Our two acre campsite consists of pitches for 30 tents, 16 campervan or caravan spaces and our exclusive new Dome.
You can choose from a small (2 people), medium (3 people), large (4 people), Extra large (5+ people) or oversized (Up to 8 people) tent pitch. A car park is also available onsite. Our pitches are located in front of our communal facilities and are sheltered by hedgerow on one side.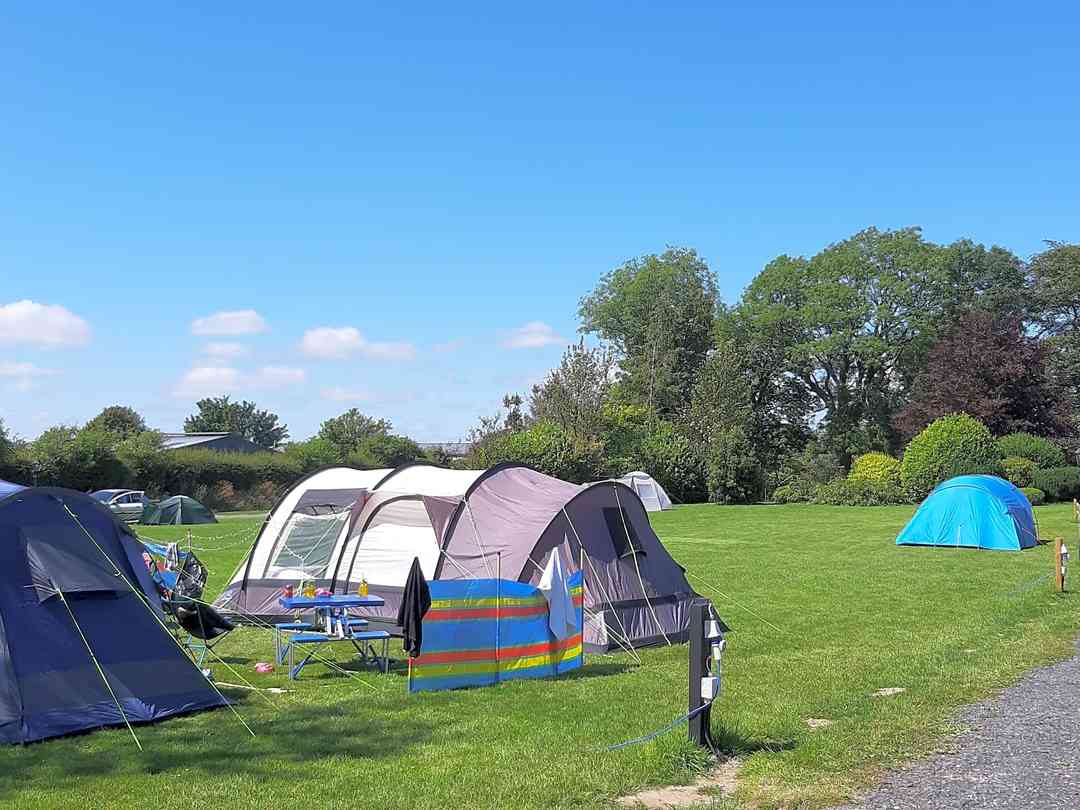 Within our two acre campsite, we have a number of campervan awning and parking areas which provides you with water and power within your pitch. A chemical disposal unit is located on-site within walking distance. On departure a concrete base is available for you to release your sink wastewater. An additional toilet facility is located beside these pitches for your convenience.
An out of this world experience.
Where luxury, comfort and outdoor living are intertwined.
We have taken glamping in Munster to a new level. For those of you that seek luxury, comfort and take pride in architectural design, you've come to the right spot.
We are proud to announce the arrival of our Dome – one of a kind in Ireland. With it's unique large transparent window, it will bring your glamping to a whole new experience, captivating our stunning views and wildife.
Our Dome is sound proof, warm and creates a safe home for the romantic couple or small family.
Your own cosy dome is fully furnished with a stove, air conditioning, sockets, comfy bed, toilet and a sofa bed if required. For little ones their imagination will be taken to new heights as planet Mars might enter their minds. 
Equipped with your very own private porch, 2 deck chairs and a brick pathway that meanders along to a sit down fire pit area, you'll find yourself fully immersed with nature. Toast marshmallows beneath the starry sky and become cocooned in our warm blankets.
We would like to help you create moments in your life, that you will treasure forever. Don't forget your camera!
*Minimum 2 night stay
Our old time white cottage with a red corrugated iron roof and natural slate covered reception area holds it's own special charm. The reception area consists of timber beams, old lanterns and vintage items. Tourist information is available for your perusal in our quaint lounge.
In keeping with the forge a warm homely self catering kitchen is provided. Fully equipped with an electric cooker (grill and oven), under counter fridge, toaster, microwave and an electric kettle. All crockery, utensils, washing up liquid and tea towels are provided.
Within this building a separate entrance leads to our new wet rooms, separate ladies and gents showers and toilet facilities. There is no extra charge for the showers.
A separate room provides wheelchair access for shower and toilet.
A village link pathway connects our campsite directly to Ardfield village. This is a 15 minute walk approximately.